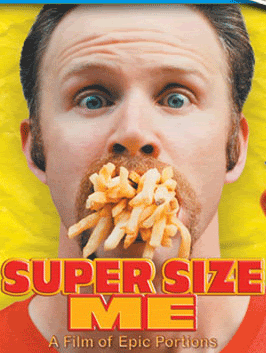 O

n [March 23] at Hatboro-Horsham High School in eastern Montgomery County, administrators say [Morgan Spurlock] put his foot in his mouth during an entertaining and humorous but profanity-laced, politically incorrect address to about 700 students.-Steve Wartenberg
(
read the whole thing here...
)
Tragic, but not really surprising, is it? Here's the part where they buried the lead:
According to Spurlock, shortly before his talk, he was told not to talk about McDonald's because a board member of the education association owns a franchise -a request akin to inviting Babe Ruth to speak and asking him not to talk about baseball.

No doubt, the reporter TRIED putting this fact higher in the story, but it was probably edited down for the sake of "community standards."
Eye roll
.
This group of educators had the 'foresight' to mention the above tidbit about McDonalds and yet were unaware of any background whatsoever on Spurlock AND his presention style?!
As Spurlock himself would probably say
WTF?!