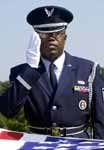 Months back, my friend gathered her Girl Scout Troop to send care packages to a young marine.
The marine's uncle- a local icon of sorts- had been insisting he spotted the young man in a frantic AP photo.
The picture did look like Brandon- slim features, heavy rimmed glasses.
When Brandon returned home on layover, he greeted his uncle.
Looking at the AP photo, he said, "I hate to tell you this, but that isn't me."
"It doesn't matter," the old man said. "That picture got us all through some tough times."