Yes, in Albom's case, he did a bad, bad thing- and yes,
I've said
it was primarily his editor's fault.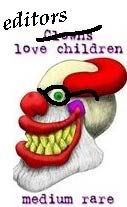 But this
Washington Post piece highlighted on Poynter
raises an interesting argument.
Why is it considered best for an 'offending' party to resign? Many expected Albom to... hell, in any career! Why shouldn't people fix problems they helped create- barring a heinous mistake of visible magnitude?